99% of our loans we offer are No Tax Return Loans for 2017. This is our niche. Simplify your loan process with a No Tax Return Loan. Majority of self employed borrower's request a No Tax Return Loan. No need to co-sign with our no tax return loan.
Applying for a loan that does not require a tax return makes sense for many reasons. First, the time consuming process of gathering stacks of tax returns for both the personal and business returns doesn't fit with the "time is money" motto of many small business owners. Any time taken away from the core mission of growing the business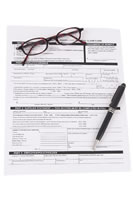 does nothing to help move the organization toward enhanced profitability. Second, businesses file tax returns in a strategic manner – thereby increasing the possibility that reinvestment in the business or purchase of equipment may reduce the amount of income a business can claim. This does nothing to help qualify for a loan. Applying for a loan that doesn't require tax returns makes a lot of sense for the business owner who wants a quick decision and fast access to cash.Many lenders require substantial documentation when underwriting a new business loan. For those that have undertaken a fully documented loan, the amount of paperwork that needs to be gathered is substantial. The most time consuming and invasive paperwork is typically the borrower's tax returns.
To find out more see our "Hot Loan Products" for rates and guidelines.