We offer an Alt Doc Second Mortgage Loan Program
Also know as a bank statement only loan. We do not require Tax returns for self employed persons. But if you are a wage earner, that is you work for someone else, we require full doc.
This is a loan that goes behind a first trust deed. That fist Trust deed loan must be at a rate below 5%. Credit fico requirements for our "2nd" second home loans are stated below. Usually the cumulative loan to value CLTV can not be more than 75%. Our 2nd Trust Deed loans can be used for residential condos and 1-4 unit properties that are owner occupied. We specialize in easy-doc-or-alt-doc-second-mortgage-loans-stated-income.
Our Alt doc second mortgage or "loan" is very popular for self employed persons. They use this loan to assist in capital for their business.
 Second Mortgage Rate Sheet & Matrix:
Up to 75% CLTV
Down to 600 Fico
No Seasoning on Short Sales
One Year Seasoning for Foreclosure's & BK's
50% DTI
30 Year Amortization 7/1 Hybrid Arm
15 Year Fixed
No Balloons
Up to $1 million Combined Loan Balance
You income qualification – You choose full doc or 24 months months bank statements
  Rates and LTVs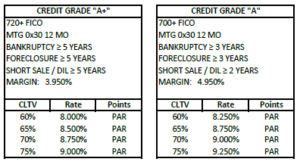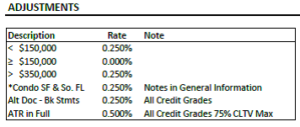 Calculate the final rate and fee
Descr. __rate_|_ fee_ | _Note_
Base Rate ______| ______| Fee Descr.
Adds ________|______| _______
________|______| _______
________|______| _______
________|______| _______
________|______| _______
Final Rate ______|_______| _Final Cost
Fees: Underwriting & Processing $1,695
Base Fee on All Loans;
2.75% for all loans.  Loans outside of of CA have an additional fee of $1500
Total fees are capped at 3% of the loan amount.
Brokers may charge half of one percent as long as total fees do not exceed 3%.
Electronic Privacy Notice: Any rates and terms stated above are for professional real estate mortgage brokers and bankers only. Rates, terms and procedures subject to change daily.
-->