The abbreviation is SISA. And yes we offer SISA mortgage loans. For our Stated Income and Stated Assets loan product we have several choices. SISA loans can be for residential or commercial properties. Usually the max loan to value is 70% loan to value. There is no credit fico requirements for this loan. There is are not tax returns or W2s requested in our Stated income Stated Asset loans.
A type of reduced documentation mortgage program which allows the borrower to state on the loan application what their income and assets are without verification by the lender; however, the source of the income is still verified. SISA loans usually fall into the Alt-A classification, and may carry a higher interest rate than a prime mortgage.
These loans are nominally intended for self-employed borrowers, or other borrowers who might have difficulty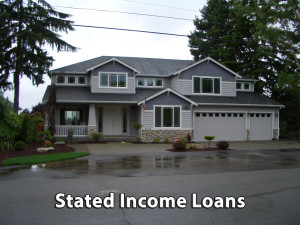 documenting their income. Stated income loans have been extended to customers with a wide range of credit histories, including subprime borrowers. The lack of verification makes these loans particularly simple targets for fraud.Stated income loans fill a gap of situations which normal loan standards would not approve. Self-employed borrowers often use SISA loans because their tax returns might not reflect that actual cash flow they have available to pay their mortgage. Other borrowers might use a SISA loan because their income comes from sources which are hard to document (such as tips in the food service industry). Some lenders may require the borrower to sign a form authorizing the lender to obtain a copy of the borrower's tax returns from the IRS should the borrower default on the mortgage.
See our Hot Loan Products for rates and guidelines.
-->