---
Long Term Care & Reverse Mortgages
The aging baby boom generation has been described as a coming earthquake that will shake the foundation of the long-term care system.
The preliminary findings of a new study under development by The National Council on the Aging (NCOA) shows that using reverse mortgages to pay for long-term care (LTC) at home has real potential in addressing what remains a serious problem for many older Americans and their families.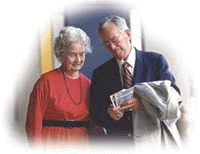 Out of 27.5 million elder U.S. households (age 62+) 15 million could qualify for a reverse mortgage. And of that total 13.2 million are candidates for using reverse mortgages to pay for LTC at home, according to the study, which is being funded by the Centers for Medicare and Medicaid Services and the Robert Wood Johnson Foundation.
The 13.2 million LTC target households have accumulated $1.9 trillion in home equity. Using mortgage rates for the week of 2/2/04, NCOA concluded that $953 billion of home equity could be tapped through the reverse mortgage program to finance seniors' long-term care needs, or $72,128 per household.
The preliminary findings are part of the NCOA's National Blueprint for Increasing the Use of Reverse Mortgages for Long-Term Care. The blueprint will offer new insights into the potential market for reverse mortgages along with recommendations for administrative action, regulatory changes, consumer protections, and demonstration programs.
Up until now, most seniors have not tapped the equity in their homes, estimated at some $1.9 trillion, to pay for home modifications that support aging in place or for healthcare services at home. Noting that the average income of men aged 65 and over is $28,000 and $15,000 for women. This study shows that unlocking these resources can help millions of house rich, cash poor seniors purchase the long-term care services they feel best suit their needs.
Identifying Hazards In the Home
Many seniors are beginning to think about ways their homes can be modified to adapt for current or future age-related concerns. Solutions for problems often exist but people are not always aware that products, or often simple changes, can be incorporated into the home that provide greater safety and accessibility.